Craig Scott-Dawkins, Registered Chiropractor
"The biggest transformation in my chiropractic career has been learning Activator®"
Discovering Chiropractic Care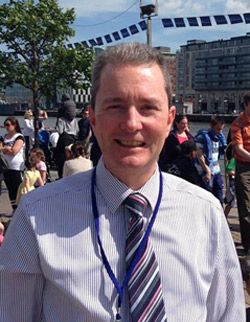 Craig grew up in Umhlanga Rocks, South Africa playing competitive sports in school. While playing rugby in high school, he injured his neck making an awkward tackle. His mother took him to a local chiropractor and he was immediately impressed with how quickly he improved. Within a few visits, Craig was able to get back on the field and enjoy playing again. After that, he would visit his chiropractor periodically for minor injuries and to stay healthy and active.
At a career event at his high school, Craig learned about a new chiropractic course that was starting in South Africa. He applied to the highly competitive program and was one of only 30 students chosen from South Africa. After six years of intensive undergraduate studies, Craig graduated in 1996 with a Master's degree, and soon after, moved to the UK. He worked at a large practice in Solihull for about four and a half years before starting his own practice in Warwick.
As the founder of Heathcote Chiropractic Clinic, Craig welcomes patients of all ages to discover safe and effective pain relief, naturally.
An Affinity for Activator®
The most impressionable aspect of his post-graduate education was discovering the Activator Methods® technique in 2000. After attending an Activator® seminar where he learned how instrument adjusting affects the body, Craig decided to pursue the training and application of this technique.
He achieved his Advanced Proficiency rating in 2003. Since then, the Activator® is his preferred technique. Craig is a Clinical instructor, presenting at Activator® seminars since 2007 and is now the regional director of Activator® seminars in The UK. Over this time he has helped train hundreds of chiropractors in the UK and Europe in the benefits of instrument adjusting using the Activator Method. He regularly attends post graduate training both in the UK and USA updating his knowledge in the management of spinal problems and sports injuries.
Certifications
Master's degree in Technology: Chiropractic – 1996 (Technikon Natal, South Africa)
Registered Chiropractor
Certified Chiropractic Extremity Practitioner (CCEP) – 1998
Activator Methods® Clinical Instructor – 2007
Activator® Advanced Proficiency Rated Chiropractor – 2003
Member of the British Chiropractic Association (BCA) – 1996
Member of the European Chiropractic Association (ECU)
Registered with the General Chiropractic Council (GCC) Reg. No: 00402
Clinic Director
On a Personal Note
Craig is married with three boys, James, Kristian and Leo. He and his wife, Jane, stay busy striving to raise a healthy family. Craig has enjoyed karate for over five years and achieved his Black belt in 2014.
Don't let pain interfere with your life! Call today on 01926 889558